Women's Ministry
Ladies serving in Hanover's women's ministry say they are just everyday women encouraging, learning, and serving. We call them our JEWELS.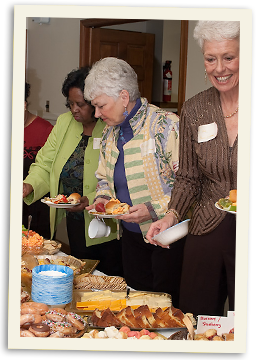 JEWELS are Jesus-loving, humble servants who encourage each other, serve the local community, and engage in all aspects of church body life. Their best known activities are their two annual events that reach far into the community: the spring tea and the fall girl's night out.
The Ladies' Tea fills the beautifuly decorated fellowship hall to overflowing with well over a hundred gaily-clad women. Those women, mostly from a wide variety of local churches, are treated to delicious food, wonderful fellowship and an uplifting program of music or a guest speaker.
The Girl's Night Out is a more casual affair whose theme varies from year to year, from celebrating the comfort of sweatpants and slippers to the relief of sending children back to school. Each year showcases the creatvity of the JEWELS with fall-themed decorations, exciting games, plenty of laughter, and heart-felt devotions.
In addition to the big annual events, the JEWELS engage in many other activities throughtout the year. They might host a 3-month bible study focused on women; travel to hear seminars, speakers, or comediennes; and visit local shut-ins for prayer and encouragement.
We invite you to join in on the JEWELS' activities. You will be rewarded with wonderful camaradie, great fellowship in the Word, and just plain fun!